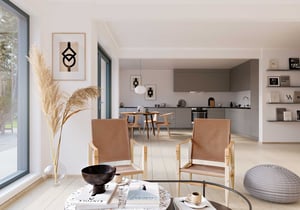 Nordbohus gets a full marketing package
See how images, film and interactive tools can improve your company.
How does Nordbohus stand out from its competitors? Especially when you can't see the finished product before it has been built.
• 3D images
• 3D films
• An interactive sales tool
• An Augmented reality app
Creating a string of sales tools with beautiful interior and exterior images that make the customers fall in love with their new house.
• Company: Nordbohus
• Industry: House manufacturing
• Country: Norway, Scandinavia
Challenges
Visual communication at its best
If you work in a house manufacturer company and you're in charge of branding your company, you want to be one of the best on the market.
It is no longer a question of whether to use 3D technology, as it is the most effective and efficient way to brand big companies and most housing companies today do not have the funds to build up an entire new house just to take some high-quality pictures. Instead, 3D technology allows you to visualize all different sizes, build-ups, colors, details, etc., which is why this technology is often preferred over photos.
If you want to visualize your houses, 3D technology can also benefit you in multiple ways. Potential ways to use it could be 3D images, 3D films, product configuration and AR (augmented reality).
We can help you get everything at once, and the right guidance to find the perfect match for your brand and visualization needs.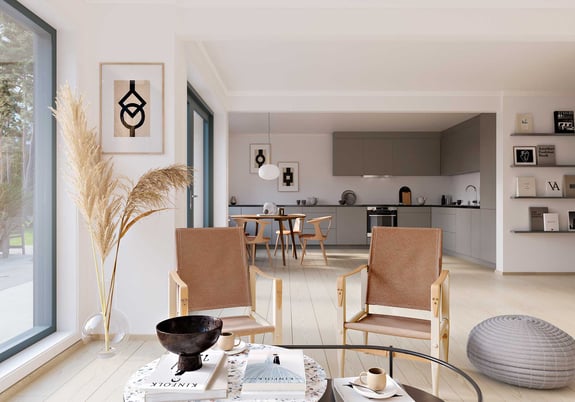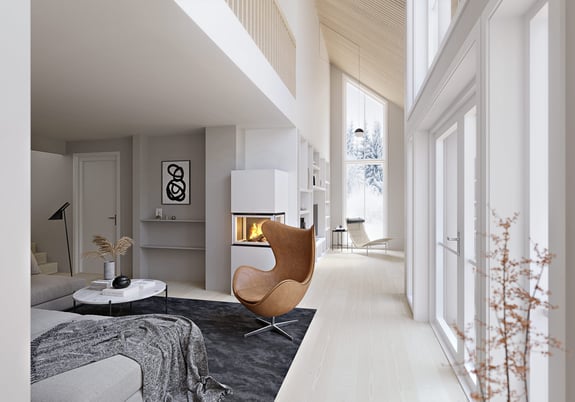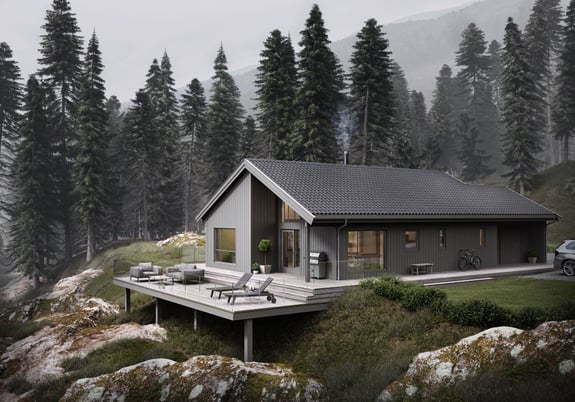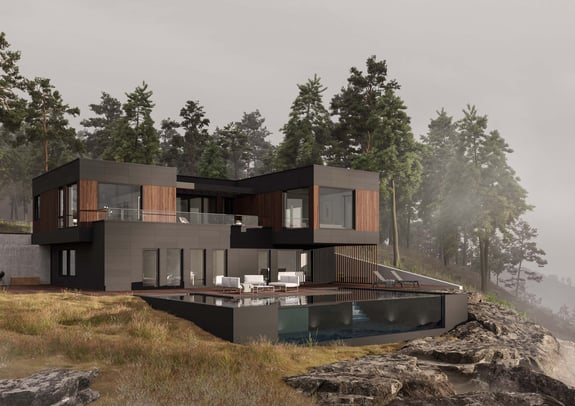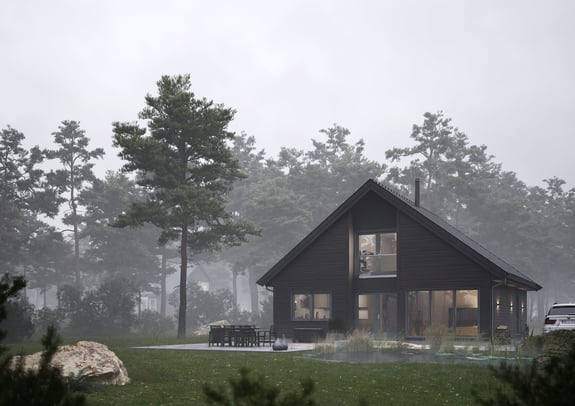 Q&A
Why get an AR-app?
Nordbohus decided to get 3D images to visualize their houses, turn the images into small videos with special effects and movement, and further start developing an Augmented Reality app.
"It helps customers understand how a house looks on their site. This is very hard to imagine without seeing it live on the actual site. It is a great add-on in communication with our customers."
Solution
Nordbohus did not want...
... to be just another house manufacturer company. They wanted to be remembered by their clients, so they in the end would choose Nordbohus over their competitors.
Before starting the process of creating a full marketing package, we had to learn more about Nordbohus as a company, asked them what their objectives and goals were, and what kind of message they wanted to send to their customers.
It all started with 28 exterior and 28 interior CGI images, that are now published and in use on Nordbohus' website, as well as shown in their catalogues. The 3D images were made in the spirit of Nordbohus' values, wishes and dreams. They wanted dreamy locations, classic Scandinavian style and breathtaking styling, which framed the final 3D images.
Furthermore, Nordbohus wanted to be able to show their houses in a lively way, which included 28 3D films that were added to their website.
Once we have made a high quality 3D model of a product – in this case a house, it is easier to make small videos that show the product from different angles and with movement.
The purpose of making these videos was to make the customers fall in love with the houses. A tour around the house with relaxing music, Scandinavian settings, and a home that the customers can see themselves in.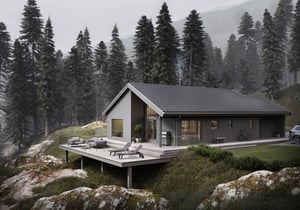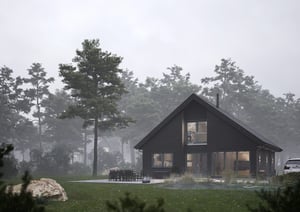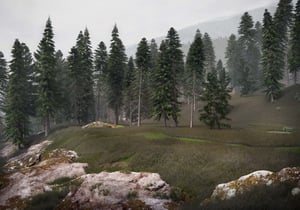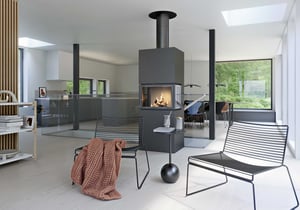 Results
From 3D images to Augmented Reality
Nordbohus decided to get CGI stills to visualize their houses, and turn the CGI stills into small videos with special effects and movement, and further start developing an AR app. One of the advantages of taking the extra step to get an augmented reality app is the many possibilities once it is made.
Nordbohus can now use the app as a sales tool in real life with their customers, and even go to their building site to see the view, not just from the outside, but also from the inside.
As an example – if a customer wants a specific view from the living room, they will now have the possibility to see it in real life. With the app, you can use your camera to get the background, add a layer with a house, and then go inside the house to see it from the inside.
This will give an experience to the customer that is guaranteed to excite them as they are not only able to see the house from the outside at the right building site, but also from the inside.
With marketing materials like these, it is not just selling a house… It is selling the customer's dream through experiences.
Nordbohus' new full marketing package with CGI stills, video, and the AR app is an investment that will serve them in years to come.
They show to the outside that they are first movers, they put themselves on the map, but they also make themselves a huge favor, as they will have easy access to new marketing materials in the future with these as the point of departure.
Once you have digitalized your product, it is very easy to make changes in prices, colors, fabrics, etc. Furthermore, once you have taken the step to produce an app, you can develop a whole universe with your products.
You have the background from wherever you want the house to be by using your camera, but you can add any small details on the outside, or interiors such as kitchens, windows, furniture, etc. It is a digitalization process and the more you put into it, the more you get out of it. You can start by taking the step towards 3d images, we promise you - you won't regret it!
See our portfolios
Industry-specific examples
Go to our industry-specific pages where we've collected all the best images, films, and product configuration examples from five different industries: Furniture, Kitchen & Bath, Home Improvement, Industry & Manufacturing, and Prefabricated Houses.
Learn from others
Related Case Stories