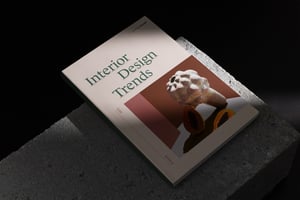 Discover 2024's leading interior design trends
Download the free e-book to find out what are the main 2024 interior design trends and how to implement them into your product marketing strategy.
Free e-book
Your guide to product styling in 2024
Our creative team has attended some of the most influential design fairs throughout the year. In this ebook, you will find their most essential findings and insights about interior design trends in 2024.
Explore the trends and see how you can incorporate these into your product marketing. From colors and materials to tips and plenty of inspirational interior design imagery, get your quick guide to navigating trends in 2024.

We cover aspects such as:
Why on-trend styling is necessary
Product styling in 2024
Trend colors, materials, and key terms
How to implement trends
Inspirational imagery
We hope you enjoy it!