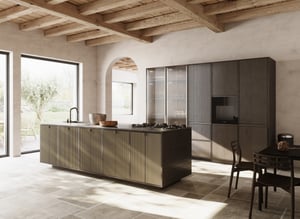 Vipp
It started with a pedal bin in 1939 and is now a full-blown design universe of accessories, furniture, and kitchens. An extensive material knowledge and strong design concept paved the way for Vipp's transition to the brand that it is to this day. A brand that is fully equipped for the future with a product configurator tailored to their needs and brand.
Vipp wanted to accommodate the modern buying process on a global scale.
•

Vipp can show their kitchens in every single configuration possible


•

Empower salespeople in physical stores


•

Strengthening buyers' confidence in the product
• Vipp
• Designs and manufactures accessories, kitchens, and furniture
• Denmark
Product
How Vipp crafted a beautiful experience for their customers – offline and online
As Vipp has grown, so has the size and complexity of their product offering. Today, Vipp sells not just pedal bins but entire kitchens with millions of configurations. But how do you help and guide your customers through such potential complexity towards a simple, beautiful experience? The answer for Vipp was a fully integrated product configuration solution by Cadesign form.
The growth of digital
Just like many other processes today, Vipp also experiences that more and more customers are happy researching, comparing, and buying online. This allows for brands to move more experiences online to meet customers where they spend their time. With their product configurator, Vipp's customers can spend the time needed to really look into Vipp's kitchen designs and see all the different options – way more than can be displayed in a physical store.
Navigating a simple path through complexity
So many options – cupboards, ovens, worktops, sinks, a wine cooler – but how to combine them in the best way possible? The intuitive configurator guides the user step by step on how to build the kitchen of their dreams. It's intuitive, fun and informative. And as a bonus, the configurator supports only possible configurations. So if a combination is not possible in real life, the configurator will alert the user and guide them to place objects differently.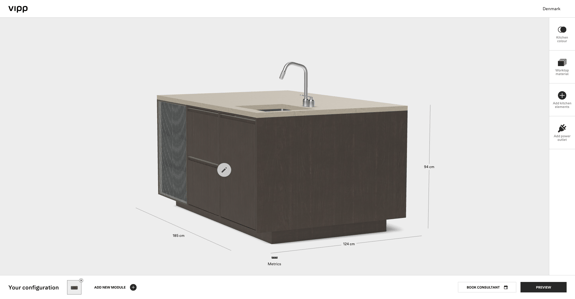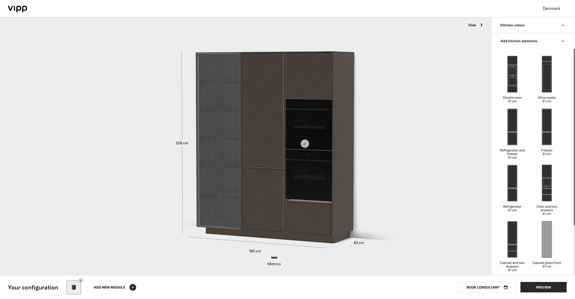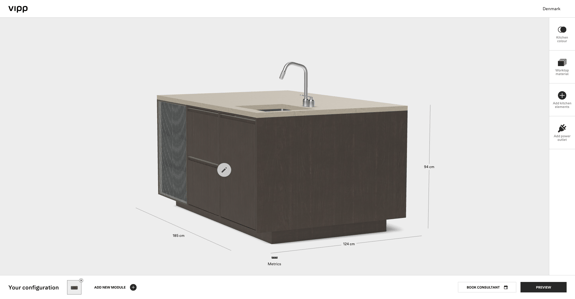 Vipp
Our ambitions are high and it is important for us to work with partners who can match this
"In Vipp, we have a passion for functional and long-lasting products with timeless aesthetics. Our ambitions are high and it is important for us to work with partners who can match this. Our new product configurator contributes to us delivering a unique customer experience, no matter whether our customers visit us offline or online."
The Vipp experience
On-brand design and experience
It was of tantamount importance that the visuals and user experience be of absolute top quality in terms of aesthetics and Vipp's well-known brand. The configurator has been completely tailored to the brand and should be recognizable when comparing it to other product configurators. This ensures brand consistency, which is an important element when combining physical and digital experiences.
Get inspired and try the solution here
Seamless physical-digital experience
Start online, finish in-store. Your design configuration is stored online, can be downloaded on demand, or shared with a local dealer who will book an appointment with you. This way, the tool becomes an integrated part of the sales process, directing customers to their nearest dealer and cutting down on internal admin. The sales reps will be better equipped to give customers a personalized experience when they go to the store as they can see their configuration and get a sense of the customer's style, needs, and preferences.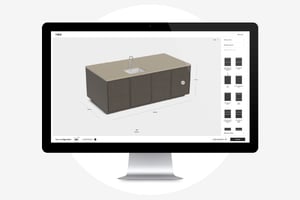 Integrated with ERP system
In order for the system to be robust and future-proof, the configurator is integrated with Vipp's own ERP system which allows Vipp to change product data and price in the configurator through a custom-built data import tool.
See our portfolios
Industry-specific examples
Go to our industry-specific pages where we've collected all the best images, films, and product configuration examples from five different industries: Furniture, Kitchen & Bath, Home Improvement, Industry & Manufacturing, and Prefabricated Houses.
Learn from others
Related Case Stories