Digital Transformation
An overview to help you transform your business processes from analog to digital.
Introduction
Is it still relevant to talk about digital transformation?
Your average customer's buying journey is rarely undertaken as the result of a spontaneous decision. There are important considerations that need to be taken into account and processed before he or she turns into a paying customer.
But did you know that upwards of 80 percent of your average customer's buying process takes place at home with either a smartphone or computer at hand?
As a result, you need to provide your customers with online tools that will help them make well-informed decisions. Convert static product images into vibrant, visual content in lifelike environments, which not only provides an experience with more materiality and less nonsense but ultimately makes a more memorable impression.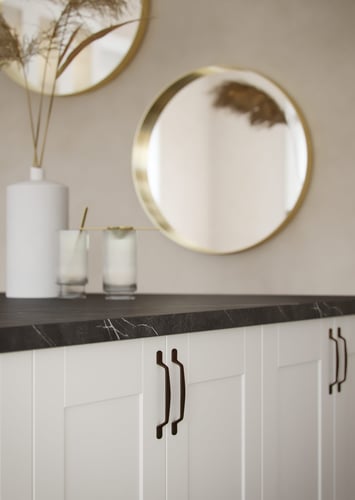 What is digital transformation?
Digital transformation is the process of using technology to create new business processes - both internally and externally - with the goal of realizing the immense potential of digitalization. It allows you to streamline processes, keep up with competitors, and ultimately produce remarkable bottom-line results.
What is the difference between digital transformation and digital innovation?
Many of us tend to mix up the terms "digital transformation" and "digital innovation" when speaking of the way in which we become ever more digital in terms of running our businesses. But in fact, there's a clear difference. And it's important to understand that difference if you want to succeed with your digital transformation.
Digital innovation refers to new digital solutions and workflows that you would like to see become part of your business. Digital transformation, on the other hand, is the transition that happens when you develop a strategy that provides the framework for the implementation of digital solutions.
Is digital transformation relevant to me?
Do you offer a product that can be modified into many different versions? Do you allow your customers to explore the many shapes, colors, and textures of your product?
Then yes!
Even if your product or service does not fit neatly into the above box, the answer is still yes. A lot of the marketing department's workflows can be streamlined and automated with the right technology, giving you the time to be creative and grow your business, rather than struggle with expensive daily manual processes.
Four benefits of digital transformation
Save valuable hours and reduce your TTM (time to market) by replacing traditional photography and videos with 3D images.
Noticeable return on investment
Implementing digital solutions is not free of charge. But once you've made the new digital workflows an integrated part of your everyday work life, it will provide a noticeable ROI in the long run.
Increased user engagement
More and better digital content will pave the way for greater user engagement and better user experiences that match your customers' buying behavior.
3D images can be shaped and redesigned into many different formats. This results in more flexible workflows as technology enables you to adjust and customize your pictures continuously.
Statistics and trends in digital transformation
These statistics were originally provided in this article by Forbes.
Most digital transformations are driven by growth opportunities, followed by increased competitive pressure and new regulatory standards.
Executives say the top benefits of digital transformation are improved operational efficiency (40%), faster time to market (36%), and the ability to meet customer expectations (35%).
60% of companies that have undergone a digital transformation have created new business models.
89% of all companies have already adopted a digital-first business strategy or plan to do so.
44% of companies have already started a digital-first approach to operations and customer engagement.
Only 7% of companies have fully implemented their digital transformations.
By 2020, more than 40% of all data analytics projects will involve customer experience.
27% of companies say digital transformation is a matter of survival.
87% of companies think digital will disrupt their industry, but only 44% are prepared for a potential digital disruption.
52% of marketers around the world say driving growth through digital transformation is their top strategic focus.
55% of companies without a digital transformation believe they have less than a year before they start to lose market share.
Nearly half of all companies say improving customer experience and customer satisfaction were the leading influences to start a digital transformation.
45% of executives don't think their company has the right technology to implement a digital transformation.
Video examples illustrating our version of digital transformation
In our world of 3D visualization, we often get the question, "what do you mean when you say digital transformation?". And for visual communication geeks like us, it can be hard to explain with words, and obviously, there's a process for how we work.

But in a nutshell, these videos illustrate what actually happens - first we create a 3D model of your product, then we visualize it with color, texture, environment, lighting, and - well whatever you desire.
Example of digital transformation
While digital transformation is the choice to pursue cost-effective and future-proof digital work processes over traditional time-consuming ones, digital innovation is the result. The actual product of your digital transformation strategy.
Here's an example of that product. A 3D model of a product that can be used in all shapes and forms and whichever setting and texture you want. Unlike a traditional photoshoot of products, these models can be re-used time and again.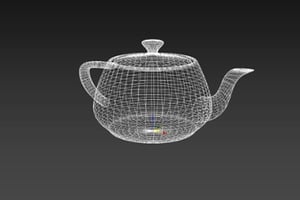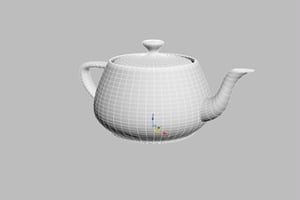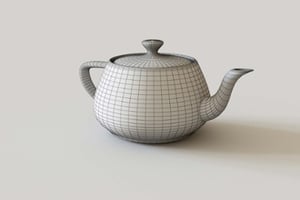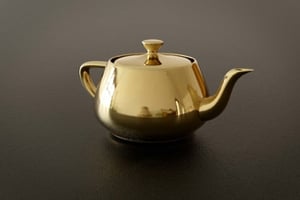 Exterior image examples
How does digital transformation look in practice?
Whether you sell outdoor furniture or prefabricated houses, implementing a digital transformation framework in your business can provide you with possibilities you might now even know exist.
Like this wonderful rooftop terrace or the most beautiful mountain surroundings for your housing illustrations.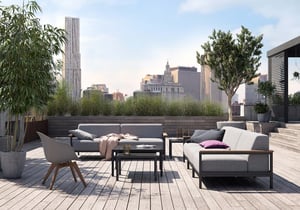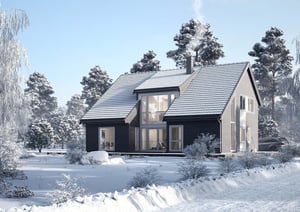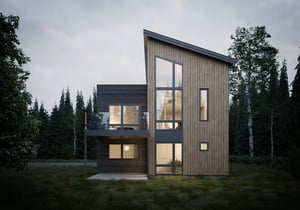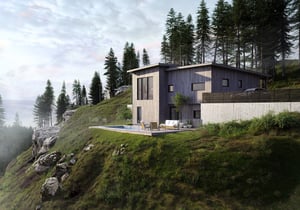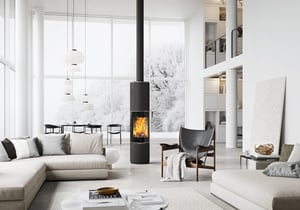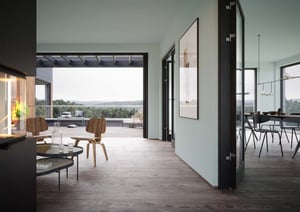 Adjust your marketing activities to match the buying behavior of your customers
Unless you sell milk or socks, you're aware that every potential customer's buying journey involves important questions and considerations that need to be processed and answered before he grabs a credit card and presses the "buy" button. As a result, the sky is the limit in terms of what he expects from your online presence. It's here that he explores and educates himself to know more about your product. And, of course, you need to give him all the answers he's looking for. Read more.
Boost your customer satisfaction by up to 30 percent
If you reserve the top spot on your list of areas you need to prioritize in your next business plan for digital transformation, you will not only see positive bottom-line results but according to McKinsey, it can increase your company's customer satisfaction by 20-30 percent.
Kickstart your digital transformation
Digital transformation can seem opaque and fluffy on the surface. But it doesn't have to be. In fact, you can divide your process into five steps: uncover your needs; choose the first project; execute, either on your own or in collaboration with a partner; customize and learn from your experience; and last but not least, seize the opportunities - take advantage of the synergy benefits that will constantly be emerging.
FAQ
Get the answers to all of your questions
How can my company benefit from digital transformation?
With digital transformation, your company can leverage technology to create new business processes that provide your customers with online tools that help them in their decision-making. If you offer a huge variety of products in different colors, sizes, materials, or with various features, digital transformation streamlines and automates much of your regular workflows to create new sales. You'll get faster execution, noticeable ROI, increased user engagement, and greater re-usability of your digital assets.
How can Cadesign form support my digital transformation?
We offer a variety of leading digital transformation solutions, using technologies such as 3D models, 3D visualizations, and 3D transformation to digitally transform your products. We help you convert static product images into a vibrant visual 3D showcase of your products in life-like environments.
Resources
Helpful digital transformation resources
We've collected a list of some of the resources out there that we found very useful. If you feel something is missing don't hesitate to reach out to us either on chat or by email.
List of resources
Unlocking success in digital transformations (McKinsey)
What is digital transformation? (Salesforce)
5 social trends driving digital transformation (bigcommerce)
Digital transformation is not about technology (Harward Business Review)
Video marketing strategy checklist (Cadesign form)
Intro Title
What we have to say
With our blog post preview module you have lots of different layout and extensive filter options to push your content.
Conclusion
Are you ready to make your digital dreams come true?
If it's the first time you're moving away from traditional photography or film towards new forms of visual communication, the journey might seem daunting. Who knows where you'll end up?

But don't worry.

If you get on board with us, we'll help you safely navigate your digital transformation from start to finish. With us as your partner, no aspect of visual communication is beyond your reach. Whether you need custom, ad hoc services, or package solutions, our setup is ready to deliver.

What's more, our customers can fully rely on our stability - we pride ourselves on the ability to consistently deliver the highest quality visual communications. It's the reason we maintain good customer relationships year after year.
Creative portfolios
Examples from your industry
Go to our industry-specific pages where we've collected all the best images, films, and product configuration examples from five different industries: Furniture, Kitchen & Bath, Home Improvement, Industry & Manufacturing, and Prefabricated Houses.
Request more information
Want to talk to a digital transformation expert?
Fill out the form and one of our experts will reach out to you to schedule a call.