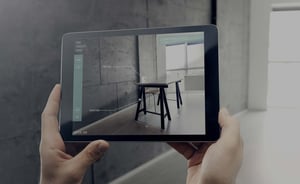 Augmented Reality experiences for your customers
Humans are wired for stories. Make yours remarkable.
Are you wondering if Augmented Reality experiences are right for you?
We create visual communication designed to empower you to achieve remarkable results for your company. With us as your strategic partner, guiding you along the right path.
Technology has evolved. As a result, today's buyers have much higher expectations about how a brand communicates and expect a brand that they can trust. Visually and verbally.
You struggle with at least one of these major challenges.
Getting your products to market in time
Communicating the value of an extremely complicated and expensive engineering product in B2B.
Fully tested processes

Highly qualified staff

Photorealistic 3D quality

Consulting about continuous improvements
This service is best suited to companies that are looking to make dramatic improvements to their visual communication and the ROI it drives.
Get in contact with one of our 3D experts to learn more about how to get started.
Start exploring
AR combines virtual elements with reality
Take the best from visual technology alongside the best from reality and you have Augmented Reality. The sales tool that allows your customer to see what your products will look like in their own home. Now that is a smart way to get a foot in the door!
Augmented reality is unique. With AR, we build up your products digitally so they can be placed in real environments. This means when your customer is unsure of which sofa or wood burner would fit best in their living room, you can allow them to try your different products at home – without the whole hassle of transporting the products there, assembling the product beforehand and so on. Within minutes, they can place all your different sofas, lamps, or carpets directly into their living room, bedroom or dining room and play with it until they are convinced that the chosen product is the best match for their home.
What is augmentation?
According to the dictionary, 'to Augment', is to increase the size or value of something by adding something to it - which is actually the perfect definition both figuratively and literally speaking.
Augmented Reality, or AR, literally adds an extra layer to reality by placing a fictive or digital layer behind whatever object you choose. This can be done on your smartphone or tablet.
In figurative terms, it adds a whole new dimension to product presentation as we know it, by allowing your customer to 'try on', the product in the familiar surroundings in which the products are intended to be used.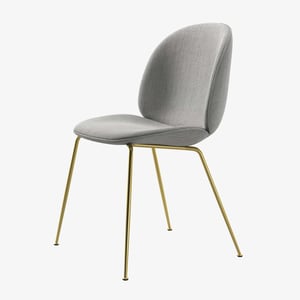 Examples
Visual proof equals increased sales
It goes without saying that AR increases the value of product presentation, by eliminating all doubts as to whether the product will fit the customer's dream scenario. With the opportunity to browse around in your entire product range and place each product in their surroundings, AR extends the customer experience to levels yet unseen.
This will leave you with a satisfied customer, who feels instantly assured when making the purchase.
Furthermore, by offering Augmented Reality product presentation to your customers, it immediately places you way ahead of competitors.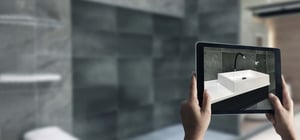 Augmented reality
WebAR by Cadesign form
WebAR refers to web-based augmented reality experiences that allow users to experience AR via their smartphones without downloading any specific app. This means all you need is your smartphone or tablet and an internet connection.
Although it's a bit technical, the solution is very simple: all it requires is a USDZ file (a 3D model file format) on the webpage, placed in a specific way. On an Apple device, it will display an AR icon on the screen. Once the user clicks that icon, the browser will load the USDZ file into a full-screen Apple AR viewer application.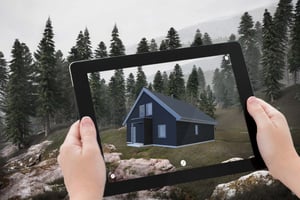 Web-AR solution
Easy to navigate and get started
AR uses the current natural setting and overlays virtual features to it. Bringing technology into our everyday lives.
WebAR allows the user to place a given product in any natural setting captured by the camera on your device. It's easy to navigate and get started.
It has a strong focus on product presentation and takes you directly into camera mode, where a menu offers an overview of the selected products. From this menu, elements can be inserted directly into the scenery captured from your camera.
The overwhelming benefit to WebAR is the fact you don't have to download an app directly to your device.
With an app, the size, data allowance for download and device type, etc. can be high barriers to get people to use AR. WebAR makes it more immediately accessible and doesn't eat up people's data through chunky downloads. With WebAR, campaigns, and experiences becomes more relevant and useful for the consumer.
AR solutions
Present virtual products in a real environment
WebAR is designed with the purpose of presenting virtual products in a real environment, making it more comprehensible for the end-user to imagine a product in an existing environment, such as a sofa or a bathtub.
We have sold this solution to a broad variety of businesses, including manufacturers of wood-burning stoves, manufacturers of bathtubs, and companies that sell newly built houses. These companies don't have much in common, except that they produce products that the end-user is inclined to buy when they can clearly visualize the product in their own surroundings.
The technology behind WebAR is top of its class, and incredible in terms of the visualization that it offers. To truly comprehend the unbelievable effects of WebAR, you will have to experience it yourself. If this has piqued your interest and you want a more visual and interactive way of presenting your products, don't hesitate to contact us for a presentation.
And if you are on your phone right now, then feel free to try it out here.
FAQ
Get the answers to all of your questions
How does augmented reality work?
Augmented reality (AR) transforms selected elements of the real world into endless virtual possibilities that let you digitally showcase different alternatives in real environments. Let your customers easily switch out colors, materials, sizes, features alike to let them explore and interact with all your alternatives for a complete and final solution that matches their needs and wants. This also helps lead to greater chances of converting your leads into customers.
How can my business benefit from augmented reality?
Augmented reality can be highly beneficial in delivering a memorable customer experience through modern technological possibilities and high levels of seamless interactions. Let your customers try out different editions of your product range and put them into real-life environments. This can help eliminate any doubts and provide visual proof for your product. This can both lead to a streamlined sales process, greater conversion rates, and most importantly improved customer satisfaction.
What our clients say
Testimonial
"'Our world' and business is, just like any other business, becoming more digital, where an understanding of the customer journey and consumer behavior is incredibly important. This is where it becomes crucial to find the right partner. Cadesign form understands our processes and demands, and they are not afraid to challenge us in areas outside of our comfort zone."
Creative portfolios
Examples from your industry
Go to our industry-specific pages where we've collected all the best images, films, and product configuration examples from five different industries: Furniture, Kitchen & Bath, Home Improvement, Industry & Manufacturing, and Prefabricated Houses.