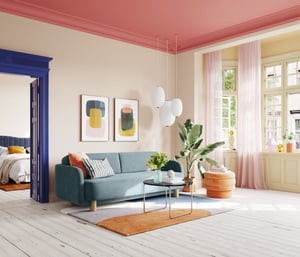 Product configurator solutions
Create interactive wonders
What you see is what you get
This particular sales statement is the most convincing and reassuring way of presenting your products. Classic communication can highlight your product range and its diversity of options can create interest. But to help you deliver on your initial promises and drive your customers further down the road towards becoming buyers, product configuration tools can accelerate the buyer journey.
Interactive selling
Making the customer boss - and buyer
Give all the power to your customers by introducing seamless and easy-to-use product configuration options that can showcase your customizable solutions and product variants in real-time. With the limitless possibilities of customization, configuration, or interactive product building, your customers can create and visualize their favorite versions of your product offerings.
Whether your products require complex configuration or your available product variants need to be visualized together in a particular environment, product configuration software solutions offer high flexibility in the tool's possibilities. Get tailored solutions designed around your business rules and your customers' demands.
Learn more
What is product configuration?
Product configuration is, in all essence, a software tool that can help you to transform key parts of your time-consuming business processes into a more effortless and interactive sales process. Traditional product inquiries transform into seamless, auto-generated visualizations of a complete and specific combination of various components or a product structure that realistically showcases the final product or solution.
You can use product configurators to guide your customers towards narrowing down features and cosmetic design, which ultimately can help accelerate the decision process and confidence in their choice.
WHY NOW?
A paradigm of mass customization
Customization is king today. No matter what product you offer and what market you operate on, your customers demand choices. Product configurators can enable mass customization for you and your customers. The systems can be designed to match your business and your customers' desire to freely pick and display different product versions in real-time regardless of complexity.
Product configuration can benefit both sides of the sales counter. Your customers have fun with your product and your brand, they are reassured and proud of their customized solution, and your sales representatives will spend less time per customer as they all come well-prepared. For you, the end result can be increased sales and faster sales processes with overall less effort
Product configuration: A win-win solution
Getting started with product configuration
As you know, technology is evolving. As a result, your buyers today have much higher expectations about how you as a brand communicate and expect a brand they can trust, both visually and verbally. Each of our 3D visualization services is designed to empower you to achieve remarkable results for your company. Our strategic partnership together can help further guide you along the right path to mastering the ever-evolving digital possibilities.
Creating best practices for product configuration
Designing a product configurator requires defining and maintaining configuration rules to create a fully functional design tool that can be more than simply a cool gimmick operating in an isolated silo. Instead, it should become an integrated channel that drives sales and communicates with anything from manufacturing to databases and other central systems.
With the help of our product configuration experts, our collaborative project will take you through an entire in-depth process from idea to execution to set you up for success with product configuration. Our goal is to provide you with a definitive tool that matches your needs and follows the best configuration processes. Here are some of the best practice offerings that our team of in-house specialists can incorporate into your production configuration solution:
Entertain and educate
Entertainment and education are the main keywords for creating successful product configurations. Your customers should stay engaged while using your product configurator and be able to easily access all necessary information about the product when presented with each alternative.
Offer seamless 360° views
A realistic 360° showcase of the customized product can offer a complete view from every angle as if the customer were at the store. Therefore, a 360° display can be highly effective in creating a true-to-life reflection of the customized product, which can help further nudge your customers towards a purchase decision.
Switch out or start over
Your customers are likely looking to explore your various alternatives and will therefore not end up with their preferred visual and feature design first time. Therefore, switching out different colors, materials, or components should be easy and intuitive.
If a complete do-over is what they want, then your product configurator should be able to quickly reset the configuration process. Your customers may also be interrupted in the customization process or may simply not be ready for purchase. Why not let your customers save their configuration progress to let them easily resume at a later time?
Stay on track
Assist your customers by displaying each step in the configuration process to always let them know what stage they are currently on. This feature can also make it easier for your customers to jump back and forth between each step to arrive at a confident and final conclusion of their favorite edition of your product.
Be transparent
Are some choices more expensive than others? As your customers try out different combinations of your product, the final pricing may vary. The product configurator can incorporate dynamic pricing of the complete product and each chosen alternative to be fully transparent towards the customer during the entire configuration process.
USE EXAMPLES
What does the configurator tool look like?
A product configurator can look rather different, depending on the type of product you sell and how in-depth the configuration options are. Users can interact with product configurators to compose and customize anything from simple product designs that may showcase a different color or material to more complex products requiring extensive user input in the process.
PRODUCT CONFIGURATOR EXAMPLE
Navigate your dream kitchen design with Vipp's intuitive configurator
Adapting to modern buying processes, Vipp, a leading Nordic kitchen solutions manufacturer, sought a tool for customers to explore and visualize kitchen options online and empower in-shop sales teams. The intuitive configurator guides users step by step in combining various elements, allowing them to build their dream kitchen. Showcasing all possible modules, the configurator prioritizes functionality over photorealism. The design configuration is stored online, downloadable, and shareable with local dealers, streamlining the sales process and minimizing internal admin.
Make your products come to life
Our large team, consisting of a unique mix of various in-house experts, all come together to offer a full-service agency for your CGI and visual communication needs. Realize your digital ambitions, and make your products come to life with us as your trusted sidekick. We are here to assist you all the way from idea to implementation with creative technological solutions that match your needs and aspirations. Feel free to reach out for further help and more information about our service offerings.
Showcase
Companies worldwide
Wheather you're looking for Product Configurator tailored to your needs or our ready-to-go solution GoCustom, we've got it.
FAQ
When are product configurator solutions relevant for me?
Product configuration is suited for any company that wants to revamp its visual communication and drive greater ROI. It can be relevant if you are struggling with properly showcasing your full product, long time-to-market, highlighting the value of complex products plus issues with attracting, engaging, and retaining your potential customers.
How can Cadesign form help me to create a product configurator solution?
We are well-experienced in delivering product configuration solutions that help turn your leads into customers You can select between our GoCustom and Bespoke solutions, depending on your needs and wants. For managing and showcasing a large variety of product options, the bespoke solution is ideal, giving you high levels of tailored configurations. The key benefits of GoCustom include: Easy to use, short time-to-market, and easy implementation.
Creative portfolios
Examples from your industry
Go to our industry-specific pages where we've collected all the best images, films, and product configuration examples from five different industries: Furniture, Kitchen & Bath, Home Improvement, Industry & Manufacturing, and Prefabricated Houses.
What our clients say about us
One of the cool things about Cadesign form is that they have a variety of experts in-house. Our new 3D images in our architect catalog have received much praise.
Visualizations and "3D language" are increasingly becoming a part of the natural world because it looks real and is made of such high quality. You are in good hands with Cadesign form – they are innovative, visionary, friendly, and solution-oriented.
Our ambitions are high and it is important for us to work with partners who can match this.
In Vipp, we have a passion for functional and long-lasting products with timeless aesthetics. Our ambitions are high and it is important for us to work with partners who can match this. Our new product configurator contributes to us delivering a unique customer experience, no matter whether our customers visit us offline or online.
Cadesign understood where we wanted to go instantly.
Project managers were super professional, and respectful, and showed us respect for being a high-end brand and what it requires. With other suppliers, it takes longer to understand who we are, and how detailed and cautious we are about our look, the material, and the feel. Cadesign understood where we wanted to go instantly. That was very comforting to me and made it easy to start out quickly.
Choosing a location from Location Library is a shortcut to make a lot of pictures in a short time but show off many different products with many stylings in great quality. We got so much positive feedback on the pictures - the surfaces look very real and it lives up to the quality and perception of our products.
It's also a source of inspiration, it shows the creative thoughts and details that you ordinarily would not get. The location we chose has wooden beams and it gives you that extra layer of something that looks nice and very personalized.
We found out about Cadesign and their new Location Library service which fits us like a glove. Now, we have access to a variety of environments, each one flexible and enabling us to show our fireplaces in a multitude of settings at a reasonable cost.
On top of that, each project runs smoothly and quickly which gives us the opportunity to plan the production satisfactorily.