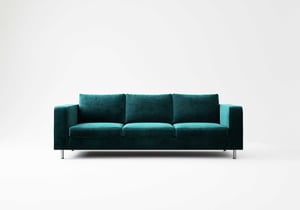 Product Images
01

How to get started

02

Implementation

03

Experienced guidance

04

ROI

05

Next steps
What dreams are made of
Visualize your products in photorealistic quality at a fraction of the cost of traditional photography. No matter what your product is, we get to know it and care for every little detail to make it look just right. We know that the texture of the fabrics and the reflection in the metal matter and are part of what makes your product special. So bring the assets of your product forward and give your product the images it has always dreamed of.
We get to know your company
All processes are different, which is why we prioritize to get to know your company, your products, and what you want to achieve with the visualizations. We want the best for your company, and try to push you in the right direction.
Quit the old photo process with all its limitations and logistics. We've revolutionized and digitalized the complete process delivering high-end CGI stills that look like the real deal.
Architectural & constructional competences
We offer a unique combination of in-house competences - from the very creative to the very technical. We dream it – then we build it. This is also the secret behind cutting-edge photorealism.
Once we have made an image for you based on a high quality 3D model, we can easily create variants and extra cameos, which reduces costs and speeds up delivery time enormously.
Faster time to market
With CGI, we don't need a physical product in order to visualize it. This means all your marketing materials can be ready by the time you start going into production. Now, there's more time for you to build momentum.
A part of our streamlined process includes the Online Workflow, especially developed to support the image production process. You and your team will love this and you will always be updated through the Workflow.
Are you convinced yet?
As one of our absolute key services, we make product images & packshots with razor sharp detailing and leave nothing to chance. We aspire to deliver the highest level of quality in our product images so you will feel safe letting us create the 3D images used to display your respective product ranges. We know how important it is that companies present their products right, which is why we prioritize that the very outcome of the product images & packshots is as close to perfect as possible.
Are you convinced yet?
Product presentation perfection
Whether you sell products online in a webshop or not – online platforms are where your customers primarily go to browse products. Ask yourself, would you buy a product without seeing it first?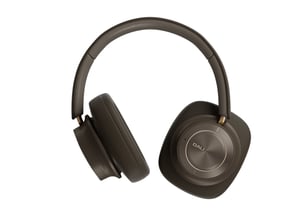 Price
How much does it cost?
Every client is unique, which is why we don't work with standard price lists. All prices are based on the scope of the individual project, but there are some factors that play a bigger role such as:
Client setup: Experience with CGI development? Single point of contact vs. multiple persons

Materials: Already created in former Cadesign form production or new?
Process: Number of proofing rounds, how much room for creativity?

Products: Number and complexity of product. Delivery of 3D files from client or modeling by Cadesign form?

Images: Mains, variants, cameos, SoMe etc. Resolution of each image
A 3D model for every need
One of the qualities of 3D modeling is that your high-end 3D model can be used for a wide range of purposes. Find out more about the process of creating 3D models.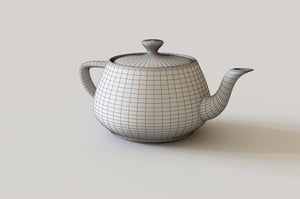 Elevate your 3D model with life-like texture
Texture creation is the process of illustrating a texture digitally. High-quality textures are essential when marketing products where the texture is especially critical to product perception.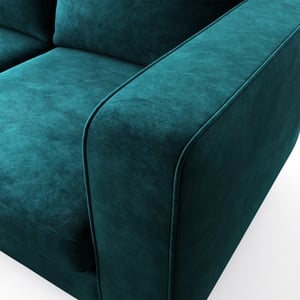 Example
The ultimate product presentation
We have had a great collaboration with the Norwegian bath manufacturing company, VikingBad, over many years. It is essential for VikingBad to keep the product images as photorealistic as possible, which their marketing coordinator, Linda Sagplass, is expressing here:
"The quality and design of our products calls for the ultimate product presentation. That's why our product images show off every product detail with visual elements that help to present it in the best possible way"
Product variations in high volumes? Let us do the hard work!
Want to know how to present all your product variations in photorealistic quality at a fraction of the cost of traditional photography? With our ImageScripting technology, we can show your product in all different colors, materials, and textures, no matter whether your product is a couch, chair, table, or something completely different.
We handle all possible product variations and deliver them in a structured order. In other words, we deliver big and complex data in a tangible way.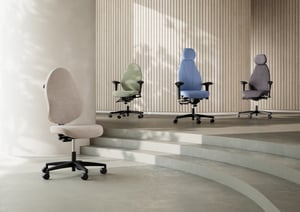 Further possibilities
Want more?
Once you've started the digital journey, lots of possibilities are just around the corner. Or actually within the four walls of Cadesign form. As a full-service visual communication agency, we help our clients convert their product images into:
What do you want? We can make it. Don't know exactly what you want? Even better. Because we do.
Take VikingBad, as mentioned above, and see how we transformed their product images into a 3D film.
FAQ
Get the answers to all of your questions
Which resolutions are you able to deliver?
Standard resolution is A5 in 2500x2500 unless something else is specified in the actual quotation.
What kind of files should I deliver to Cadesign form of my products?
Please see the separate File Guide. In case you don't have a digital model, we will model it for you. Then we will need photo references incl. measurements.
How can you match the colors and samples?
You simply ship physical material/texture samples to us, and we digitize them using photo and scan technology. This is a key element in creating high-end photorealism.
What is your delivery time?
This will vary a lot depending on lead time, production capacity, number of proofing rounds, and project scope. For a typical 1st time production for a new client, 1-2 months production time would be recommended. Alteration of ongoing/existing projects can often be made in one or a few days.
How are the legal rights for the final image?
Once you've paid the invoice, the image incl. all copyright is yours. This will also be defined in our standard conditions as a part of your quotation.
When do I (client) give feedback?
The project manager of your project will send a time schedule of the different steps in the process. Here you will find when and what to comment on.