01

How to get started

02

Why should you get started?

03

Time- & cost efficient

04

Experienced guidance

05

ROI
Complexity made easy
Want to know how to present all your product variations in photorealistic quality at a fraction of the cost of traditional photography? With our ImageScripting technology, we can show your product in all different colors, materials, and textures no matter whether your product is a couch, chair, or table or something completely different.
We handle all possible product variations and deliver them in a structured order. In other words; we deliver big and complex data in a tangible way.
Browse all your products
Whether you sell products online in a webshop or not – online platforms are where your customers primarily go to browse products.
Consumers worldwide purchased $2.86 trillion on the web in 2018 and 81% of consumers conduct online research prior to purchasing products. You may recognize this from yourself if you research information about your potential purchases before making a decision whether to buy or not. Based on these facts, the look and impact of your packshot and product images are essential to your sales stats.
Large amounts in a short time
A lot of product variations are not suitable for traditional visualization methods (like photographs) – our scripting method solves this challenge and makes it both time- and cost-efficient.
Benefit from our ImageScripting technology and visualize your full product range in all possible variations. This way, you allow your customers to personalize your products.
Skilled and experienced partner
We offer a strong set of in-house competences along with our acquired knowledge and experience, ensuring that your company will enter this digital enhancement of ImageScripting with the greatest support team possible.
We are very proud of our own scripting technology. It simplifies data for your business and makes it possible to add new variations easily.
Work smart
If you manage to sell the dream – you will sell the product. To sell the dream, you have to stand out and look better than all of your competitors combined. To outmatch competitors, you make sure that your product is presented in all colors, textures, and materials - or else, how will they know how it looks?
And it doesn't stop there. The new wave of technology has given us the required tools and the basis we need to create additional visual marketing materials such as film, social media videos, interior and exterior images, website visuals, and just about everything else you can possibly come up with.
Price
How much does it cost?
Every client is unique, which is why we don't work with standard price lists. All prices are based on the scope of the individual project, however, there are some factors that help determine the price:
Client setup: Experience with CGI development? Single point of contact vs. multiple persons

Materials: Already created in former Cadesign form production or new?
Process: Number of proofing rounds, how much room for creativity?

Products: Number and complexity of the product. Delivery of 3D files from client or modeling by Cadesign form?

Images: Mains, variants, cameos, SoMe, etc. Resolution of each image
Example
Webshop magic - 1.000.000 product images or more
Like every e-commerce customer out there, a Bolia customer wants to see all the existing facets of their spectacular products. That means that they want to display their product in every color, every type of material, and every possible style combination there is. To accommodate this explosively evolving tendency and demand, Bolia needs an incalculable amount of CGI images.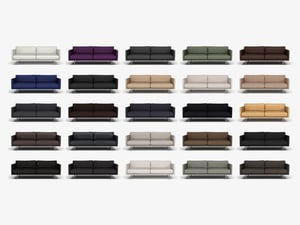 Example
Time and cost-efficient
Today, Bolia orders images from us by simply using their website (CMS). We deliver directly to the CMS, which Bolia can then activate online. The new system has saved an enormous amount of resources, and we have already delivered over 30.000 images to Bolia.
"We have a very large range of furniture that needs to be visualized on our website. This can involve anything from 1.000 to 1.000.000 images that need to be produced in a very short amount of time. The setup we have with Cadesign form has enabled us to visualize our entire product range in a time- and cost-efficient manner which has simplified this huge task significantly"
Further possibilities
Want more?
Once your product is digital, there are endless possibilities - you can turn it 360 degrees and see it from all angles, you can zoom in on every detail with a sharp and pixel-perfect display, you can change colors, textures, and materials, and you can dissolve it and see the hidden components and place it in whatever surroundings you see fit. This is not just an alternative to 360 product photography; Product images like these are only possible to create with computer generation technologies and therefore the first step toward endless visual possibilities and perfect product presentation is Digital Transformation.
FAQ
Get the answers to all of your questions
Which file formats are you able to deliver?
We typically deliver scripted images in PNG, with transparent backgrounds, and without shadows. We can deliver other formats, please talk to your contact person about this.
Which resolutions are you able to deliver?
As scripted images are most often meant for monitors and websites, the most typical resolution is 1920x1080.
What kind of files should I deliver to Cadesign form of my products?
Please ask for the separate File Guide. In case you don't have a digital model, we will model it for you. Then we will need photo references incl. measurements.
How can you match the colors and samples?
You simply ship physical material/texture samples to us, and we digitize them using photo and scan technology. This is a key element in creating high-end photorealism.
What is your delivery time?
Delivery time for scripted images depends mostly on the project scope, i.e. 100 or 20.000 images. Once we have identified the scope of the project, we will be able to estimate delivery time.
Are you able to rework 3D product files or scans?
Yes. These will always be a great start. However, depending on the quality, we may need to refine or remodel them. To ensure the best quality, we prefer our own models.
What are the legal rights of the final image?
Once you've paid the invoice, the image incl. all copyright is yours. This will also be defined in our standard conditions as a part of your quotation.
Creative portfolios
Examples from your industry
Go to our industry-specific pages where we've collected all the best images, films, and product configuration examples from five different industries: Furniture, Kitchen & Bath, Home Improvement, Industry & Manufacturing, and Prefabricated Houses.