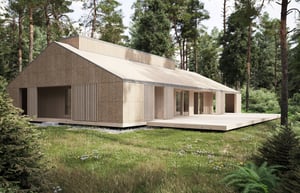 Location 26 - The forest house exterior
Make beautiful product images in this location
The Forest House, designed by Danish architect Jens Martin Suzuki-Højrup and Carsten Erichsen, combines Danish design tradition with inspiration from Japan. It features a minimalist design inspired by traditional Danish longhouses. Situated in a natural environment, the house offers multiple outdoor areas that provide different perspectives of the surrounding nature.
Japanese design elements are incorporated throughout the house, with wooden panels and a clean aesthetic. The house has a covered terrace surrounding it, inspired by a Japanese porch type called "Engawa." These covered areas create a flow between the indoor and outdoor space.
The Forest House presents a modern vision of sustainable homes, designed to fit into the Scandinavian context and cater to contemporary family needs.
https://www.detlevendehus.dk/featured-project
Specifics of The forest house exterior
With this location, you get a number of different camera angles within the location.
Have a look at the images below and start visualizing your product within the scene.