Adjust your marketing activities to match the buying behavior of your customers - both online and in the physical store - and enjoy a remarkably positive impact on your bottom line.
Many companies are struggling with their offline sales. It's difficult to get customers off the couch and down to the physical store.
But why?
The convenience of Google is partly to blame. Another reason may be your lack of online "wow" experiences. A third reason can be attributed to the fact that many customers fail to start a digital transformation in time to meet their customers' demands.
Customers are moving the decision-making process out of your store and into their homes
Unless you sell milk or socks, you're aware that every potential customer's buying journey involves important questions and considerations that need to be processed and answered before he or she grabs a credit card and presses the buy button.
But did you know that upwards of 80 percent of your average customer's buying process takes place at home with either a smartphone or computer at hand?
As a result, it takes a long time from the moment when your customer's need arises until the point where he steps into your store. But it also means that the sky is the limit in terms of what he or she expects from your online presence. It's here that the potential customer explores and educates himself about your product. And, of course, you need to give him or her all the answers he's looking for.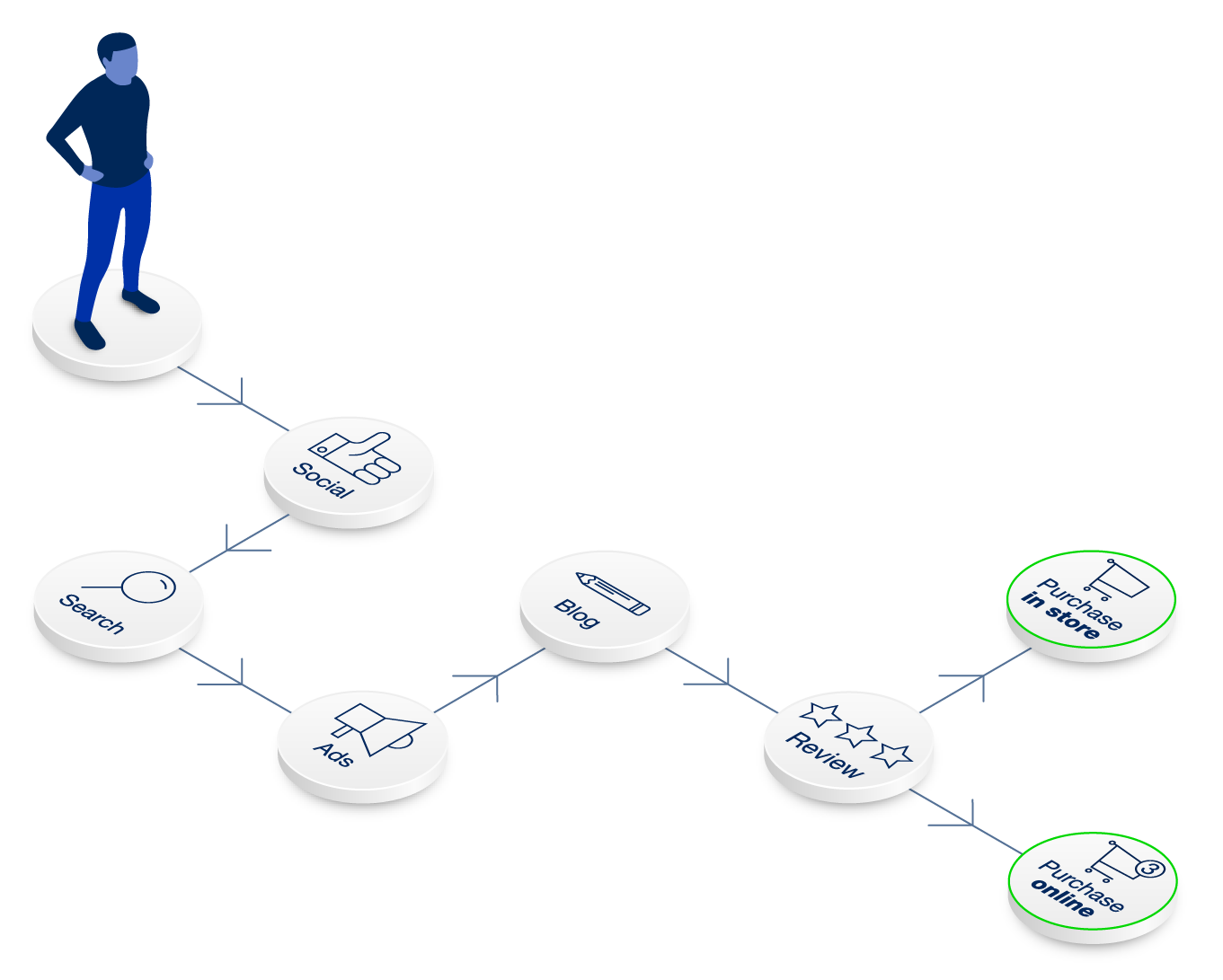 Nurture your customers online
Unfortunately, it doesn't help to serve coffee, decorate your store or have a welcome committee of eager salesmen standing ready to greet passersby in the hope of luring them into your store. And, sadly, it's no longer enough to be able to write catchy messages and have well-developed website skills.
Even your highly trained sales team won't be able to help a customer at eleven o'clock on a Sunday night. Your online presence therefore needs to be on a level that ensures your products almost sell themselves.
How do you get products to (almost) sell themselves? You need to make your customers comfortable with purchasing online by equipping them with the knowledge they need to make well-informed decisions.
One of the ways to do that is by providing the right digital tools.
For example, if you sell physical products, 3D visualization can enchant your customers through detailed product and environmental images or assembly instructions. That way, you create a somewhat near-in-store experience for your prospective customers - whether they're sitting on the couch or walking the dog.
Another option is product configuration that showcases your product from all its angles and edges, and where customers can design and customize their purchases based on your choice of colors, shapes, materials, and models.
The detailed information creates both a good customer experience and the desire to see and feel the product in physical form. This is not only advantageous for your business online - it will attract more visitors to the physical store too.
It's basically about taking your customer's hand and guiding them through a transparent decision-making process that removes any uncertainties or reservations that your customer may have.
From prospect to loyal customer
By incorporating digital transformation into your marketing efforts, you're not only adapting to your customers' buying behavior, you're also giving your customers all the necessary knowledge about your product, which means that by the time they enter your store, they've already come a long way in their decision-making process.
Do you want to know more about how to boost your marketing efforts with digital transformation? Here's everything you need to know.