Traditional marketing – with its dull pack shots hanging lifelessly on a mediocre website – simply doesn't cut it anymore. Today's consumers are responding to experiences, and by making your products match your customers' interests and purchasing behavior, you're able to make a deeper connection and provide value beyond the product you sell.
Get an overview from our Customer Experience Guide
Brands nowadays are challenged by the question of how to connect with and inspire their customers.
Take a moment to think about how your potential and existing customers are experiencing your product range today. Where do they find information about your products? Which devices do they use to get in touch with you?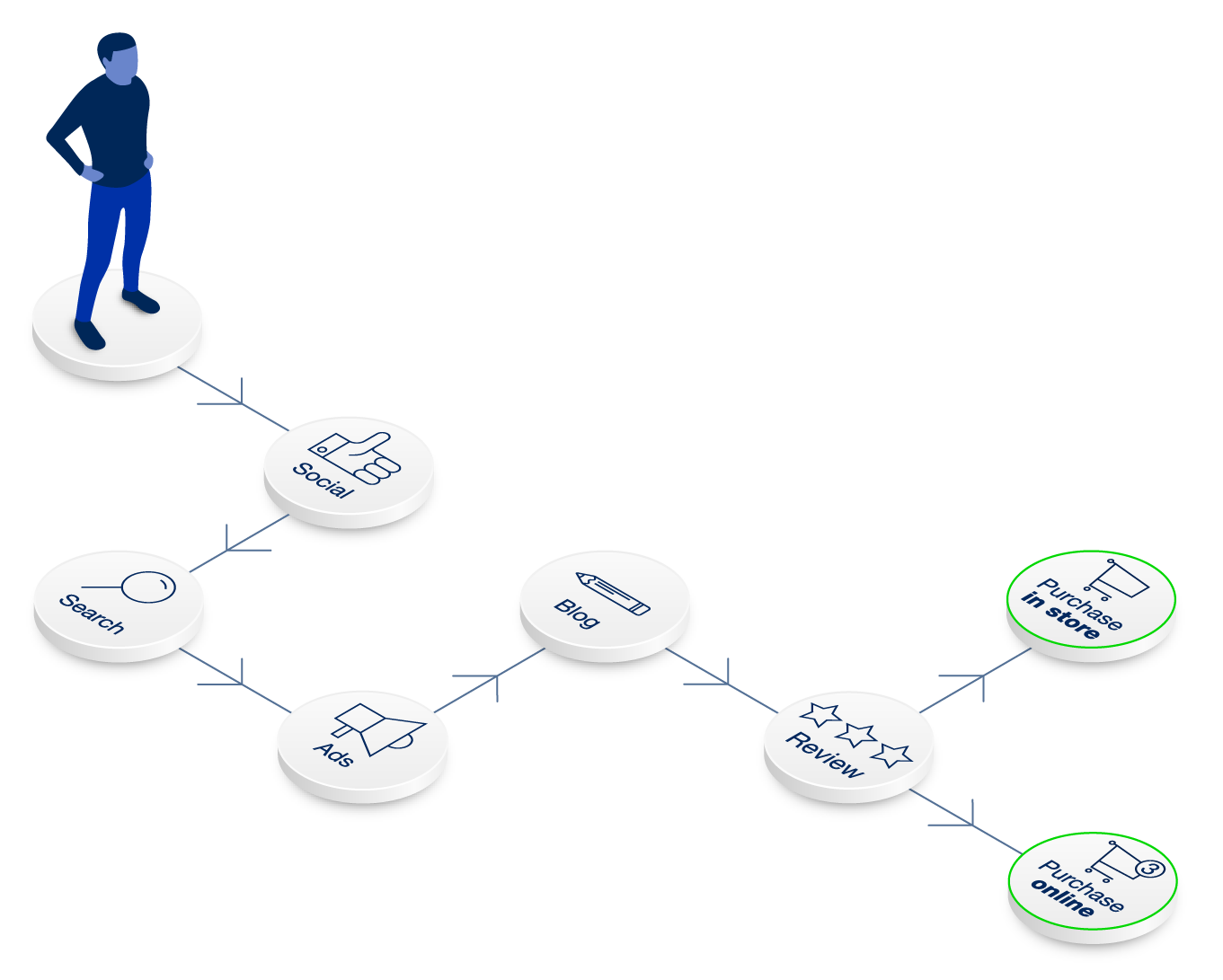 News flash: The way you run your business is about to change, because an ever-growing expectation of extraordinary customer experiences when interacting with brands is transforming the way marketers reach their buyers.
But why? Much of the reason lies within the transformation of the customer journey.
Reaching your customers in 2020
Years ago, retailers could easily get away with simple pack shots and a minimum of information on their websites – back then, most of the buying process took place in the retailer's physical store.
Those days are over.
Today, the customer journey has changed dramatically because of the increased use of mobile and digital devices. Digitalization has enabled retailers to provide better customer interaction – online, offline, at home and on the go.
The modern buyer journey is all about "pull" instead of "push." Your customers are less likely to buy your products through cold calling or pushy sales speeches. Instead, upwards of 80 percent of your average customer's buying process takes place online – where they can gather information and educate themselves at their own pace.
As a result, you need to align your sales and marketing efforts with the goal of adding value and educating your customers online.
Enlightened. Involved. Activated. Those are the things your customers want to be.
The key to success is ensuring an engaging and personalized online shopping experience. If you make sure that the interaction is smooth, convenient and continuously improving, you'll be able to convert website visitors into revenue. If not, you'll give your competitors the greatest gift they could hope for: your customers.
But how do you create an engaging and personalized online experience?
You bring your products to life.
More experiences. Less features.
In recent years, we've seen a decline in materialism and a progression towards experiences – especially in the younger generation. In fact, 72% percent of millennials prefer to spend money on experiences rather than on material things.
But this doesn't mean that material items are no longer being purchased.
It does, however, mean that retailers have to adapt their marketing, messaging and sales tools to fit this trend of prioritizing experiences.
So, instead of just focusing on product features, prices and delivery terms, focus on how your products improve your customers' well-being and add value to their personal lives.
Present your products in a context that your customers can relate to. Tell a story. Show how your products will fit into their lives.
Here are three examples of how you can improve your customers' experience:

Example 1: Let's say your company sells outdoor furniture. Rather than putting all your marketing efforts into pricing, features and benefits, focus on the experiences surrounding the furniture. For instance, you can use 3D visualization to place your product in the ideal location with all the surroundings your customers dream of – whether those surroundings are real or imagined – and thereby give your customers an idea of what life with your furniture will be like.

Example 2: Your business sells flooring and carpeting. Unfortunately, humanity's power of imagination can sometimes be quite limited – if you just provide your customers with a small sample of the floor type they like, it's almost impossible for them to imagine their dining room with your new floor installed. Luckily, with help from augmented reality (AR), your customers can now see what the floor will look like in their own home, directly from their smartphone or tablet – a personalized, online shopping experience that brings your product into a relevant context.

Example 3: Let's say your company sells kitchens. If you've already provided your customers with an engaging online experience on your website, and they decide to visit your showroom, your most important job is to extend the buying experience by activating their senses – you have to invite them to interact with their soon-to-be new kitchen. And in the modern showroom, virtual reality (VR) makes it happen. With a pair of glasses and a little bit of 3D magic, your customers can walk around in their new kitchen before it exists, feeling the texture of the tabletop and listening to the sound of the cabinets closing.
Speaking of VR, one of the best-practice examples of recent years is Audi. In 2017, they launched their "Audi VR experience" sales tool at several dealerships. With the VR solution, customers can take their digitally configured car for virtual spin and explore even the smallest details. An extremely realistic and personalized shopping experience!
Remember: Humans are wired for experiences. Make yours remarkable.