While digital marketing mainstays such as SEO and email marketing will likely always remain a cost-effective and integral part of any online marketing campaign strategy, professional video marketing is an increasingly critical component. Growing exponentially in both importance and utilization, video marketing offers a multitude of benefits, serves to further establish you as an authority in your industry, and, when done properly, delivers a strong ROI.

What is Video Marketing?

Put simply, video marketing is the utilization of videos for the purpose of promoting your business, products, and services to your target market. Additionally, video marketing can be used to increase your customer base by providing them with relevant information in an engaging, interactive manner.

Ten years ago, the majority of videos on the Internet were found mostly on YouTube and consisted primarily of funny cat videos, music videos, and movie trailers.


Free checklist: Download our 7 step checklist for creating a video marketing strategy

Today, professional videos are found on websites, social media platforms, blogs, and several other video channels. What's more, videos are a key priority for marketers, and video content can be presented in a variety of different styles of video, including:
Video interviews
Tutorials
Testimonials
Webinars
And more…
Have you tried video marketing and been disappointed with the results? Are you seeking to try your hand at it but don't know where to begin? Are you not sure whether it's actually worth the effort? Keep reading to discover why video marketing is so powerful and the benefits of video marketing, and you'll quickly discover that video marketing is definitely something you don't want to dismiss.
Why video marketing is so powerful
In 2020, companies and marketers make it a priority to include a healthy dose of video marketing as part of their marketing mix. That's because consumer wants have changed over the last decade — we now live, work, and purchase products and services in a society that craves more engagement from the companies they choose to do business with.
A nice website and competitive prices are no longer enough for a consumer to make a purchase decision, nor is a promotional packet instrumental in acquiring new business leads. Engagement is key, and video marketing is a highly viable means of interacting with customers and clients in a manner that improves brand recognition, memory retention, and online visibility.
Consumers prefer videos to reading text
There's a reason major search engines such as Google and Yahoo! now place videos at the top of the page following a search query. It's because 50% of Internet users prefer to watch videos about a company, product, or service before purchasing a product or service. Additionally, video content attracts more traffic than other forms of content marketing.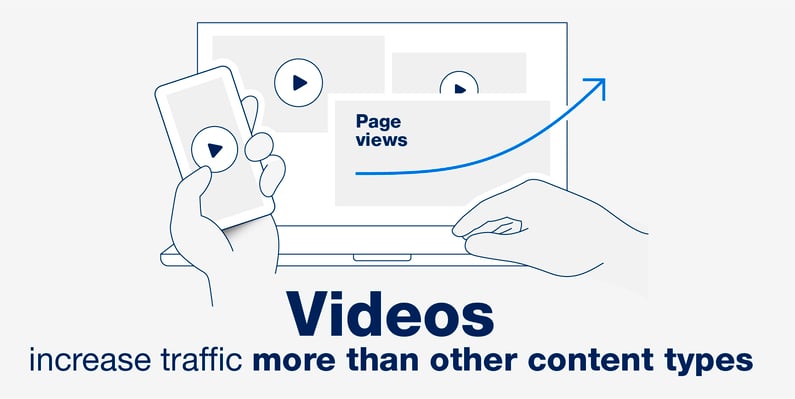 These two statistics alone show that consumers are watching more videos than ever before, and it's not a trend — video marketing will continue to see rapid growth as consumer demand for video content rises.
Video marketing increases your ROI
In 2020, almost 90% of marketers have reported a strong ROI as a result of video marketing. This figure has risen significantly over the years as more marketers realize not just the importance of video marketing, but also as they better understand what is video marketing and how best to leverage it as part of their digital marketing strategy.
In the past, many companies and marketers who began to tread water in the video marketing pool sought to produce videos in an inexpensive manner, and the available technology certainly made it easy. But consumers did not respond as well to amateurish iPhone videos when compared to professional video marketing. Likewise, videos didn't always reach their intended audience because companies and marketers were still learning how best to present their videos and on what channels.
Now, savvy marketers know that videos on a website serve to increase organic search traffic by 157% and the site is 53x more likely to rank on the first page of search results. Additionally, videos on social media platforms can be easily shared with others, increasing your reach with any additional expenditure.
Consider video marketing as you would SEO — both now play a large role in a website's ranking, and both serve to attract new potential customers and sales leads. And, like SEO, you want to ensure that video marketing is performed professionally by a marketing team with experience, saving you money on your marketing budget while increasing your ROI.
Videos play a large part in the decision-making process
As mentioned above, consumers actively seek videos about the products and services they are interested in. Videos serve not just to inform consumers, but also to create a lasting relationship with your target market that consequently influences their purchase decisions.
In fact, over 90% of marketers state they've successfully converted leads simply via videos presented on social media. Over 60% of consumers also agree that watching marketing videos on Facebook, YouTube, and other channels has positively influenced their purchase decisions.
Video marketing success also holds true for B2B companies — Over 60% of executives and purchasing managers navigate to a website after watching a demo or company video on YouTube.
Benefits of video marketing
While the above statistics are just a small example of why video marketing is so powerful, they don't completely reveal the benefits of video marketing. There are indeed many, from increasing website traffic to converting leads to increasing revenue.
Consider the following benefits of video marketing and if you aren't already actively using video marketing, you undoubtedly soon will.
Increase your online presence and strengthen your brand
First and foremost, video marketing serves to improve your online visibility and subsequently increase brand awareness. In today's competitive online marketplace, this is a critical step to ensuring customers find you first, before they find a competitor.
Videos make your content more engaging to the consumer, help your business connect with your audience, and introduce new potential customers and clients to your brand.
Videos can inform, educate, enlighten, and entertain the customer — and they'll remember videos (and your brand) more vividly and for much longer than they would text on a web page or in an email.
Build trust and establish yourself as an authority
Videos help to instill a sense of trust in the consumer. By presenting professional, informative videos to your audience, the consumer sees you and your company as a source for reliable information, products, and services. This further increases brand awareness and also helps you connect with your audience on a more personal level.
Professional video marketing is not expensive
While there is a big difference between amateur videos and professional videos, it isn't necessarily in the cost associated with either. Professional video marketing is not as expensive as you might think, and it especially important to ensure that your branding video is well-produced. Utilizing the services of a professional video marketing company also saves you money on professional video editing equipment and software, which is not cheap.
Increase sales
All of the above add up to an increase in revenue. Through strong brand awareness, increased engagement with your audience, and higher website rankings, you'll drive more traffic to your website and turn more leads into new customers. Add a product video to your landing page and you can increase conversions by nearly 80%. That's just how effective video marketing really is.
Search engines love videos
As mentioned above, having videos on your website increases your ranking on Google. Additionally, having videos available on other channels such as YouTube, Instagram, and social media platforms also serves to drive more traffic to your site even if consumers weren't actively seeking it. Videos are featured heavily in organic search results.
If a consumer does a search for a specific service or product and your website doesn't show up high in the search results but a related video you've created does, you've just managed to capture another potential customer.
Video is especially appealing to mobile users
A growing portion of consumers is utilizing mobile devices to shop for products and services. As such, they are watching a lot of videos on those mobile devices — in fact, mobile video views have grown over 200% over the last decade. That's a growing audience for you.
The bottom line
Video marketing in 2020 and beyond isn't a choice — it's a necessity. It's affordable, effective, and being utilized by companies in all industries on an ever-increasing scale. That means if you aren't including video marketing as part of your own online marketing strategy, you risk falling far behind the competition.
But with professional video marketing at your disposal, you can not only maintain and increase your edge over your competitors, but also grow your customer base and establish a strong Internet presence.