DISCLAIMER: This article was written when Covid-19 was still affecting physical stores around the world. Today, we're looking at different challenges. Find out more about how to advertise through times of crisis in the article below:
In this expert interview we discuss the impact the corona virus pandemic has had on the retail industry. Luckily, every cloud has a silver lining – and so many retailers are now finding new ways to improve their retail game and make every customer feel like the store was created with them in mind.
From the way we interact and behave around each other to the way we shop for goods and run our businesses, the corona virus pandemic has turned the world upside down.
Get an overview from our Customer Experience Guide
Right now, many retailers are suffering from huge declines in sales and have been forced to shut down their brick-and-mortar stores. As more consumers realize that they can get what they need without setting foot in a physical store, retailers without a rock-solid online marketing strategy are struggling to survive.
Because consumer behavior is changing, retailers are now forced to find new ways to keep driving revenue, remain relevant and keep up with competitors.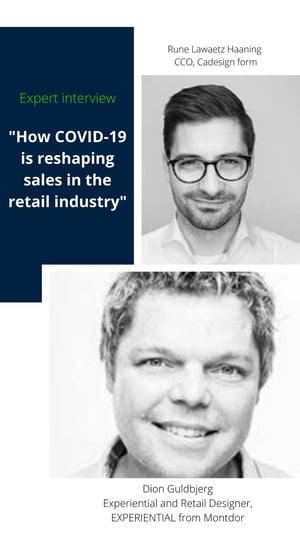 We had a virtual sit-down with our CCO, Rune Lawaetz Haaning, and a close friend of the house, Experiential and Retail Designer, Dion Guldbjerg, to discuss how retailers can navigate the crisis and seize the opportunities it has created.
The magic link between online and offline sales
Before the COVID-19 outbreak, many retailers depended on offline marketing channels, such as conferences, face-to-face meetings and the distribution of physical sales materials, in order to drive revenue and convert prospects into paying customers.
But as social distancing has forced people to stay at home and replace offline activities with online solutions, it's safe to say that technology has played an essential role for those retailers who have managed to keep their businesses alive. Rune comments:
Clearly, there is a great deal of uncertainty about all of this, but from our side of the desk, we're seeing that many retailers suffer from closed shops, postponed conferences and canceled production of marketing materials via physical photo shoots. And they don't have a plan B. These businesses can no longer afford to put all their eggs in one basket. They need to realize that there's an increasing necessity to take their online activities to the next level and create a mix of offline and online sales activities in order to meet the changing demands of consumer behavior.
According to Rune, retailers need to create a stronger link between their online and offline store activities:
We have to keep in mind that the physical store is far from dead, and it's not just about moving all sales activities online. It's just as much a matter of using digital sales tools to provide an extraordinary experience once the customer steps into the physical store. In this way, retailers will meet the terms of their customers – both online and offline.
Dion Guldbjerg also believes that the brick-and-mortar store indeed has a bright future ahead:
It's very simple: No bricks, no clicks. Retailers need to realize that online and offline sales are no longer necessarily two separate and distinct options. By using the data and insights from the online store to build convenient and relevant experiences, both online and offline, retailers are able to offer seamless shopping experiences. This, in turn, leads to better customer acquisition and retention.
The race for relevance
Covid-19 has not only shown how our everyday lives can be changed in a split second. It has also made us more aware of our most important resource: time.
According to Dion Guldbjerg, retailers are now – more than ever – fighting for their customers attention:
None of us know what will happen tomorrow, and that's why we pay close attention to what we trade our valuable time with. That's why relevance has become more important than ever. If retailers are able to push the 'reset button' and offer their customers a relevant shopping experiences that suits their way of living, they are more likely to navigate successfully through the crisis. This is a race towards remaining relevant. A race that retailers simply can't afford to lose.
Moving trust to the forefront of the retail agenda
As retailers are adjusting to this new reality, they need to accept the fact that e-commerce is new to many of their customers. As a result, they need to prioritize customer trust. Rune explains:
There's no doubt that online shopping will become the new normal for everyone – even those who up until the outbreak were reluctant, now have no choice. Retailers need to make their customers comfortable with purchasing online by equipping them with all the knowledge they need to make well-informed decisions.
One way that retailers can serve their customers is by providing the right digital sales tools:
If you sell physical products, 3D visualization and augmented reality can enchant your customers through detailed product and environmental experiences. In that way, you generate a somewhat in-store experience for your prospective customers,
Rune explains, and adds:
Detailed information does not only ensure a good online experience, it also activates the desire to see and feel the product in physical form, which will ultimately attract more visitors to the physical store.
Rethinking inventory management
As more and more businesses seize the digital opportunities of the world we now live in and shift to experience-oriented retail, many companies have chosen to rethink the purpose of their brick-and-mortar stores:
Today, most of the customer's buying process takes place at home – not in the physical store. And on top of that, customers want personalized shopping experiences. So, instead of having one of each product in your inventory, focus on identifying your customer's buying habits and then creating a seamless user experience based on their prior online and offline activities.
According to Rune, this presents new inventory management questions to retailers:
Basically, retailers only need one of each item in stock in the physical store, enabling the customer to see, feel, smell and hear the product in its physical form. In our opinion, the rest of the shopping experience should take place through virtual reality or digital showroom solutions, where the customer can interact with their custom-made version of the product and see how it looks in their own environment. In this way, retailers will not only cater to the desire for a personalized shopping experience but will also save a lot of store space and will no longer be bound by costly inventory.
Dion has a different perspective, namely that retailers do not necessarily need to save store space, but they need to consider how they're able serve their customers with premium experiences from the square footage they have available:
Brick-and-mortar stores now have a golden opportunity to create meaningful brand experiences through a carefully designed space with brand educated staff. But great experiences require space. So, instead of cutting down on store space, it's all about creating bigger and better experiences with the available square footage. Remember: The greater the consumer experience, the greater the potential for revenue growth, Dion concludes.
Are you ready to seize the opportunities? Once you adapt to the new ways in which consumers behave, you'll be equipped to serve each customer in a unique, personalized way – both online and offline.