Social media are overflowing with information!
By now, we are well aware of the fact that we are presented with more information than we can process. In fact, The Attention Economy reports that just one edition of the Sunday New York Times contains more information than readers in the 15th century had access to in their entire lifetime!
When we go on social media, we expect to be introduced to a lot of content. But we know that we cannot process all of it and we therefore have ways to cope with this overload of information - one of them is that we ignore some of it. You may recognise this tendency as you scroll through social media and read updates from certain profiles while you skip others.
GoVisual
Keeping in mind that we all have these strategies to sort information on social media, how can you make your customers pay attention to you? By going visual! Visual content is saying far more than words and, very importantly, an image can catch the eye and cut through the noise. But it has to be a good one. And there's more! While we remember 20% of what we read, we remember 80% of what we see. So start sharing good visual content and expect to be noticed and remembered.
We suggest picture-perfect CGI, because it looks even better than the real deal and will most certainly make your customers have an extra look. See for yourself!


But let's move on from all the talking and present some images and case stories for you.
Tirsbæk Bakker: 24 cents per click
Tirsbæk Bakker is an area in Denmark that offers the best of both worlds: a life in harmony with nature with all the offerings of the city still nearby. Needless to say, this is where you want to live! But you have to know it exists!

Tirsbæk Bakker used sponsored posts on Facebook to share the news about their beautiful area and houses for rent. With stunning images, a clearly defined target group, and a captivating text, Tirsbæk Bakker launched a Facebook campaign that resulted in 8,157 impressions and 274 clicks through to their website to look at the houses.

And the best thing about it all? It only cost them 67 euros, which leaves them with a cost per click of 24 cents! That's pretty cheap! Especially considering the price of the product, they are advertising.

Main takeaway: If your marketing materials are of high quality, Facebook can get you far – at a low cost!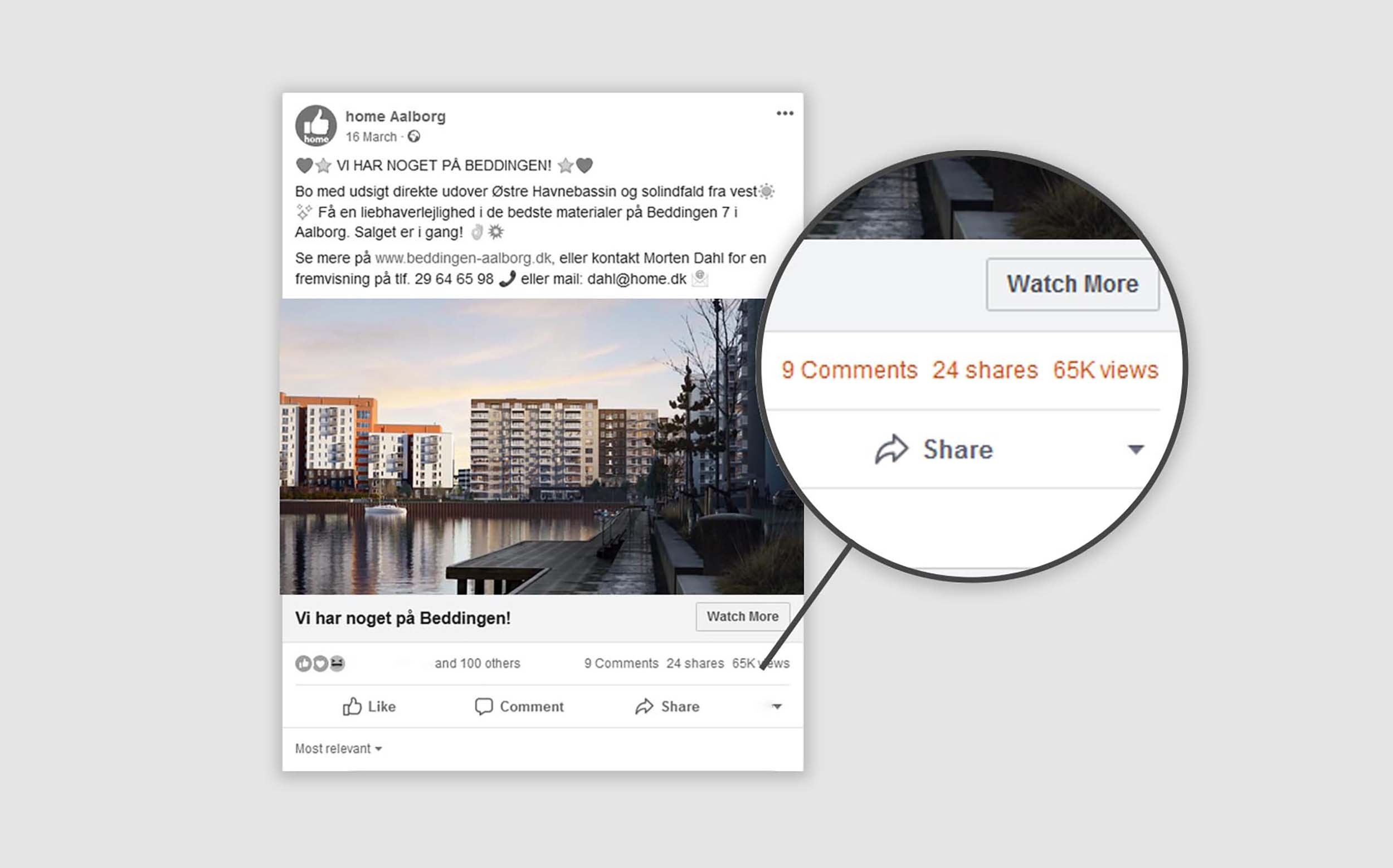 Beddingen: 65,000 views
Beddingen is one apartment building out of many on the waterfront in Aalborg, Denmark. For their marketing strategy, they went back to scratch and identified their USPs to find out what makes them different from the rest.
When it comes to distributing the message, Beddingen makes use of various marketing activities to spread the word. One of these activities is a continuous involvement on Facebook, where a campaign has been prepared and shared on Facebook over time.
With 65,000 views of the first video, it is clear that people are interested in the project and find the video entertaining. And when people like what they see, they like, comment, and share, which means that even more people see it, and if they like what they see, they will like, comment, and share and the snowball effect goes on and on…
Main takeaway: Make it interesting and use the snowball effect to your advantage!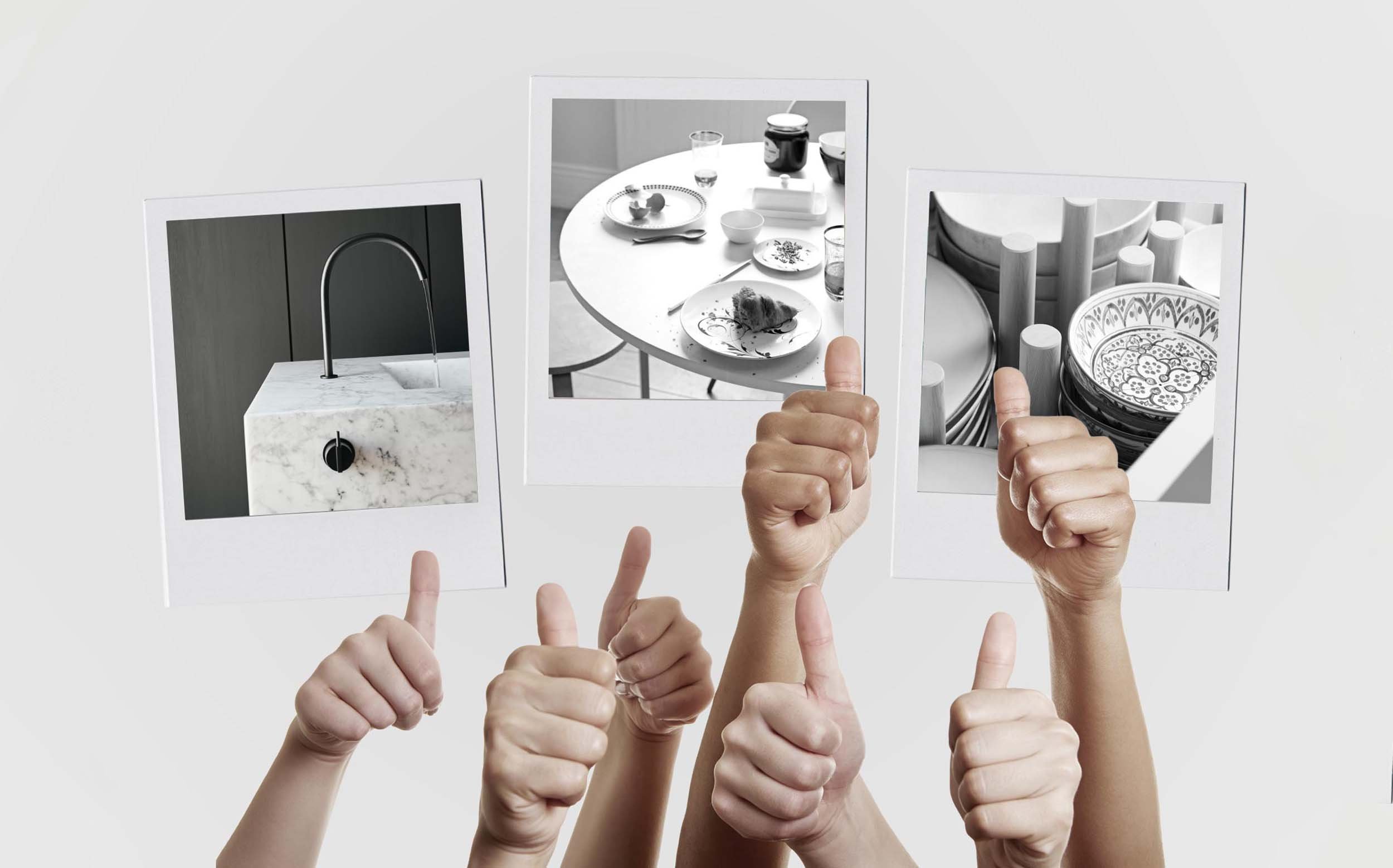 How do you succeed on social media?
Quality is everything! If your message is clear, interesting, and beautiful to look at, your advertising will be more effective. People will be more likely to pay attention to it and click on it, and if you are lucky, they will engage with your content and spread the word to their own network through liking, commenting, and sharing.
So prioritize content that engages your viewers. The good news is that this knowledge is simple to use to your advantage – CGI is flexible and any still image can be changed to include different angles, different styling, or even a video!
So be creative with your content and find a way to inspire your followers.
Sources: